Anyone excited about this coming season?

Anyone think their team will live the dream?
Who knows... I'm waiting to see how Sam Howell does. If he can play reasonably well, the Commanders might do 'okay'.
Android Andy UK
- Gadgets, tech and more, on YouTube
As loaded as the AFC is I still only see the Chiefs making another Super Bowl run, they kept most of their players and showed last season they did not need Tyreek Hill and could just sign any random player (MVS,Juju, McKinnon and Watson) to put up points. I will say I have Trevor Lawrence as my MVP pick as I think he will help the Jags to lock up one of the top 2 seeds.

As for the NFC I think there is still pretty large gap between the Eagles and the 2nd best team (Cowboys?)


Awards
MVP: Trevor Lawrence
DPOY: Micah Parson
OPOY: Christian McCaffrey
OROY: Bijan Robinson
DROY: Will Anderson jr
Comeback Player: Demar Hamlin (seems like a lock at this point)
COY: Doug Pederson

2024 1st overall pick winners/losers: Arizona


As for the Ravens I'm finally glad they gave Lamar some 'weapons' as well as a new offensive coordinator in Todd Monken, but think it's going to take some time to adjust to the new offense and I don't think that's something they can afford to do early on in the season with them facing 3 divisional opponents (all away) in the first 5 weeks
come on aden give me a prediction for the patriots this year...7-10?

im hoping for 10-7 but i just cant see mac jones winning games for us
Now that Mac no longer has a defensive coordinator pretending to be an 'offensive' coordinator and is running a similar offense to the one he was successful with at Alabama I think he will be better than last season, however if the Pats win it's probably going to be because of their defense and I'm just not sure that will be good enough to contend in the AFC with teams like the Bills, Bengals, Chargers, Chiefs
Hah, I do have them at 7-10 (finishing 3rd in the AFC East) thanks to their defense going up against 'average' quarterbacks like Derek Carr, a rookie qb (Anthony Richardson) a 1st year starter (Sam Howell) and Jimmy G
My tier list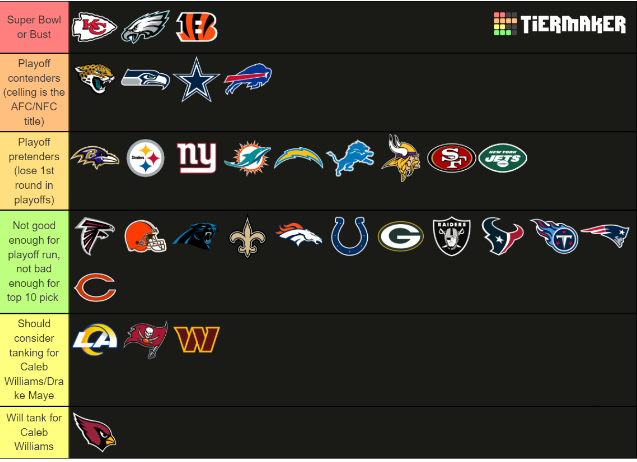 Hmm, I don't think that works. Statistically, 6 teams in your 'Not bad enough to be top 10 pick' will be a top 10 pick...
Android Andy UK
- Gadgets, tech and more, on YouTube
Yeah realizing now I should have made an extra column for 'drafting in the top 10 in 2024' (Titans, Texans, Pats? Packers maybe ?)
Seems like the Jets fans can never have nice things